Driving Training with Institute of Professional and Safe Drivers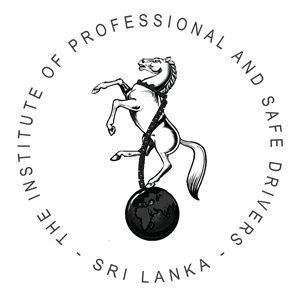 Est. 1996
What Defensive driving is?
Defensive driving is a set of skills used in "driving to save lives, time, and money, in spite of the conditions around you and the actions of others". It is a form of training for motor vehicle drivers that goes beyond mastery of the rules of the road and the basic mechanics of driving. Its aim is to reduce the risk of collision by anticipating dangerous situations, despite adverse conditions or the mistakes of others. This can be achieved through adherence to a variety of general guidelines as well as the practice of specific driving techniques.
What is Advance Driving?
Advance Driving program is aimed at developing defensive drivers with special skills in Driving specialized vehicles under different conditions and situations such a driving Hazardous chemical trucks, VIP limousines, Cash transit vehicles and vacuum trucks or developing "Mentor Drivers".
What is Tactical driving?
Tactical Driving Training is a restricted program available for clients Operating standard or specialized vehicles in hostile environments, Already possess armoured Vehicles or has Drivers for armoured Sedans, SUVs or Busses for VIPs. Operate along with Military or para military vehicles Follow "Convoy / Tactical movement procedures"
Subject and Training content is "Restricted" and will vary depending on the law of the country where the programs were conducted.
Why IPSD?
IPSD has a history of over 20 years in providing defensive and advance driving training for Shell, BP, Holcim, ICI – Akzo Nobel, Prima and many other industrial giants.
Manned by National Safety Council – USA, RoSPA- UK and military qualified driving instructors along technical instructors with Shell, BP and several overseas working experience, IPSD maintains the supremacy in the trade. Defensive driving programs conducted by IPSD had proved to be most effective in enhancing Driving and Technical capabilities of drivers and riders.
With the best collection of competent team and best collection of training material in the industry, IPSD is well equipped to handle all types of training starting from motorcycles up to prime movers carrying all types of cargo.
We are the only such organization in Sri Lanka and Nigeria to obtain NSC-USA and RoSPA- UK endorsement and become "Service Provider by obvious choice" for Great Industrial giants such as Shell Group, Holcim and Akzo Nobel.
What is different with IPSD?
Each program is tailored to suit the needs of individual clients along with a Road Transport risk assessment of each operation
One of the best collections of training material in the business and also has the access to many "Information Highways" through National Safety Council – USA and RoSPA – UK and affiliations.
Our certificates carry World most recognized endorsements in Driving Training. All successful candidates will get an internationally valid Certificate and a Competency Card.
We maintain a database of your credentials for future references and this could be made available to potential employers from all over the world.
Female assessors with female clients to conduct In-cab assessments
Video recording of every practical assessment for evaluation and teaching
In-cab assessment meeting highest industry standard (RoSPA) which has three modules – Demonstration, Coaching and Evaluation.
In-cab assessment meeting highest industry standard (RoSPA) which has three modules – Demonstration, Coaching and Evaluation.
"Internationally recognized Competency Card issued to each successful candidate"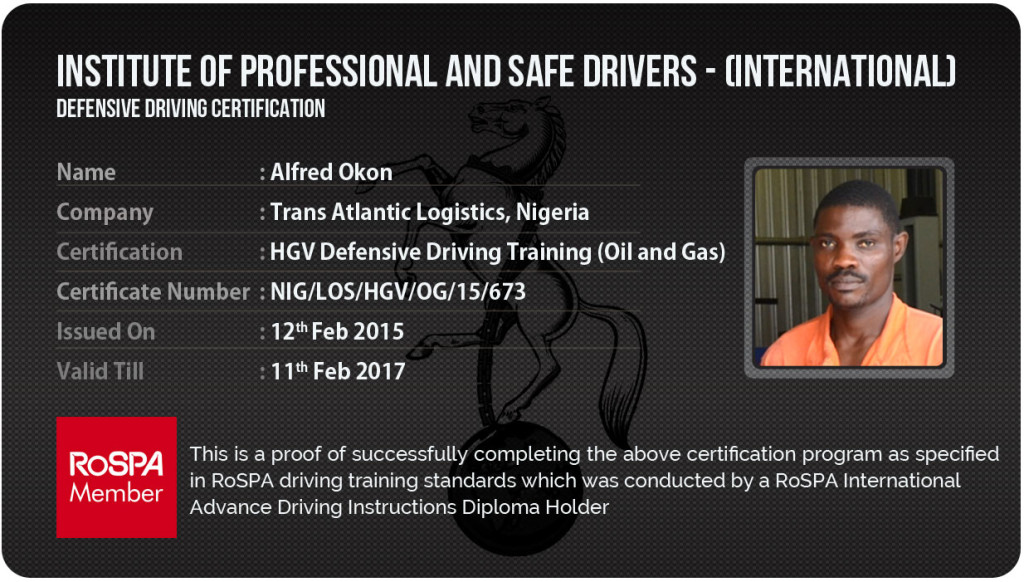 Defensive Driving Training Advance and Tactical Driving Training
---
Affiliation and Accreditation